About Vegetation Link
Experience, knowledge and connections. We offer you a long and successful track record, a good understanding of biodiversity and the bureaucracy of offsets and an extensive network of registered and prospective offset sites.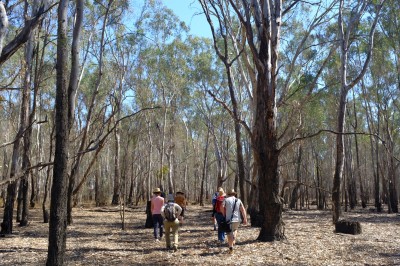 Vegetation Link is an accredited offset provider with the Victorian Department of Energy, Environment & Climate Action (DEECA) and also administers credit trades in collaboration with Trust for Nature.
We are a small and dynamic team based in Castlemaine, Victoria with a client base and network that extends throughout the state.
We have been facilitating native vegetation credit trading since 2006, and have completed over 1,700 offset transactions across south-east Australia, ranging in size from a single tree to hundreds of hectares. As a result, we have built an extensive network of site owners and a knowledge of prospective sites that extends beyond those on the register.
If your project includes the removal of native vegetation, your planning permit will require that you offset it.
As offset brokers we are your shortcut to meeting those requirements. We track down suitable native vegetation credits, negotiate a price, navigate the paperwork and register the transaction.
Leave no footprint
At Vegetation Link, we are conscious to tread lightly. In an effort to ensure the only marks we leave on this land are positive ones, we have taken the following steps:
We plant 1 tree for every trade we complete via aTree
We have effectively made ourselves a carbon negative company by purchasing well over the required amount of Reforestation Carbon Offsets from Carbon Neutral
We have assisted in establishing a fund in our name in the Nature Glenelg Trust Foundation
Contact us
Call us on 1300 VEG LINK (1300 834 546) or email offsets@vegetationlink.com.au with all your offset enquiries.
We acknowledge the Aboriginal Traditional Owners of Country throughout Victoria and recognise their continuing connection to land, waters and culture. We pay our respects to their Elders past, present and emerging.